Video collaboration is changing the way we do business all around the world. Utilizing video conference meetings improves business process and connectivity in more ways than one. It's becoming an essential tool in business and has improved many aspects of the way we work.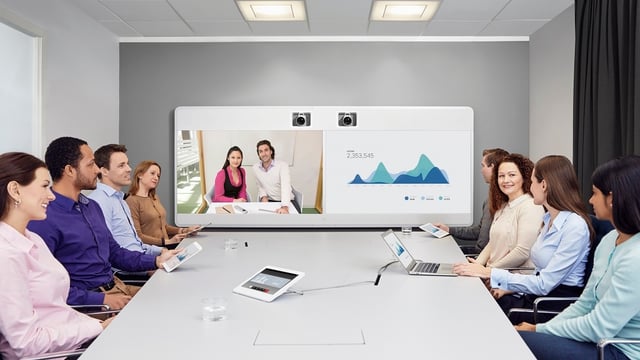 Let's cut to the chase and talk benefits. When choosing to fully integrate all UC toolset have to offer into your collaboration solutions, the long term benefits are a major selling point- and not just for your executive board.
1. Productivity Enhancement Throughout the Workplace:
Most, if not all, companies have offices scattered across the country or even around the world. If they do not have their own offices, then they are most likely working with partnering companies located in other areas. Back when dinosaurs roamed the earth, our only means of office communication seemed to be lagging phone lines and muffled intercom speakers. As times have changed, e-mails, instant messaging, presence indicators, screen sharing and video conferencing have reinvented the way we stay connected. When video conferencing is fully integrated into internal business operations, information is seamlessly communicated- regardless of who is actually available in-house.
The concerns regarding the loss of face-to-face communication have become a thing of the past. Video collaboration allows for anyone, practically anywhere, with a solid connection to get in touch with others when it matters most- creating efficient and timely communication. Whether it's a one-on-one briefing or a group call, geographical location is no longer a restraint or concern. All of this will help to complete projects faster and enhance productivity between different members of your team and your partners.
2. Reduced Travel Costs:
Being able to video conference with partners and team members can not only save you time, but money for unnecessary travel expenditures. Why worry about poor internet connection in your hotel room or the hassle of rental cars when you can just schedule a video call right from your office? There's no question here that conferencing offers us the ability to "be" several places at once, without allocating funds to travel.
You are decreasing your expenditures and removing the hassles of airport security lines, crying babies on the plane, money spent on plane tickets and hotels, and most importantly TIME. Time is a key aspect in business; the faster we get things done, the quicker we see results. Likewise, the faster we get things done, the more time we have to be devote to other projects. More often than not, organizations can come to a realization and conclude that the cost of travel for just one employee can easily outweigh the expense of integrating a video conferencing investment. This makes video conferencing implementation an easy, and considerably strategic, decision to make.
3. Communication and Relationship Improvement:
Have you ever talked to someone over the phone and just felt like the connection to sustain the professional relationship just wasn't there? During a video call, you can pick up on facial expressions, body language and the overall personality of the person on the other side of the screen. These natural communication indicators are lost with basic telephone calls.
Imagine a company-wide meeting in real time with all of your offices on the East Coast. In a group setting like this, everyone feels equally connected, regardless of where their work space is. The easy accessibility provides a healthy environment for continuous idea-sharing and feedback. E-mails can easily be misconstrued, and sometimes phone calls relay an unwanted tone. Unified communications and collaboration solutions work with your overall business structure to override these small, but very significant, errors and helps build better relationships through top notch communication, wherever and whenever is convenient.