What are contact centers? How does it pertain to business operations? These are great questions that require some insight we have provided to you here, before venturing down the path of choosing the best contact center solutions to incorporate into your business phone system.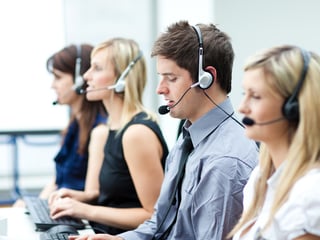 What does contact center solutions do for your business?
Contact center solutions allow for inbound call flow management to maximize the full potential of your available agents and staff. Which is crucial in assisting any influx in waiting customers, creating a quicker service experience, greater uniformity in the handling of incoming calls, and metrics to track performance.
What are the benefits of using a contact center software?
Increased service levels
Improved customer experience
Metrics to provide business intelligence
Enhanced staff utilization
What does contact center applications allow users to do?
When implementing contact center applications, it enables enhanced call routing based on your custom design. This allows you to manage the flow of incoming callers and map them to the appropriate resource that can efficiently help them.
What features should I look for in a contact center?
Call Monitoring

This allows supervisors to listen in on phone calls as they are occurring- keeping quality control amongst agents.

Real-time Coaching

Allows supervisors to speak to an agent when a customer is active on the line. The agent can hear the supervisor, but the customer cannot.

Call Barging

Allows supervisors to drop into a conversation to intercede directly on an agent and customer interaction.

Call Recording

Creates an archive of the transaction between the customer and the agent- helping supervisors understand what happened on a call.

Screen Capture

Recording the agent screen allows you to see the
click-by-click actions taken for a full understanding of what happened on a call.

Call Disposition

Allows agents to comment on the outcome of a call. This provides insight into the call without having to play the recording.

Metrics Dashboard

Provides immediate insight into queues and queue status.

UC Interopability

Connects your Unified Communications System to your contact center, giving real-time agent availability and extending the capabilities for agents to reach the rest of the organization functioning outside of the contact center environment.
What is call center vs contact center and application vs software?
A contact center is similar to a call center, but with more features. A call center uses either the public switched telephone network or VoIP for calls. A call center communicates only by voice. (*VoIP-Info)
The applications run on the system software and contact center solutions is all encompassing.
The applications are what truly adds value to a contact center. However, there are some features already included in a basic VoIP, digital or analog phone system that can provide reasonable functionality and so can unified communications system- if your main goal is to improve your customer experience but you don't have a lot of agents. If you are looking to upgrade your system check out Avaya's IP Office. For more assistance in choosing the right option or are interested in learning more, call us today!