Did you know that unified communications (UC) has the ability to break down all walls of communication within an organization- especially when used in a contact center? Implementing UC in a contact center increases agents ability to meet the customer needs by 78%. Transform your current contact center to better utilize your human capital and reach problem resolution faster.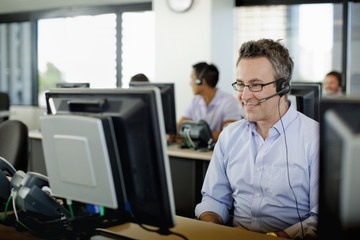 We have brought you five ways unified communications changes the contact centers for more efficient customer service.
1. Better Call Quality:
Unified communications delivers better audio quality than the telephony we are used to. UC connects the customers to the agents seamlessly leaving the customers with the impression that the agents are speaking to them privately through UC wide band sound.
Sound quality is a key element of the perfect customer experience and customers want high quality voice interaction with call centers; 82% of people said they wanted to feel like they were having a private conversation with agents (2011, Jabra Research).
A bad experience with a call center can easily mean lost revenue and of course the reverse is equally true. And yet, in the past 12 months 87% of people have experienced problems when contacting customer services.
2. Remote Real-Time Training:
Unified communications enhances agent training. Call conferencing capabilities allows agents to collaboratively regardless of proximity to work on an incoming call without disrupting the conversation.
For example, if an expert is dealing with a customer issue, a newer agent can join in on the call and use it as real-time training. This type of training is more effective than watching a video on a hypothetical. The trainee learns from user experiences in real-time, with real issues, and how the trainer handles them.
In other means, an agent needs to contact an expert for help they seek the skill-based presence indicator. This way agents can route the call based on the skill and availability of an expert for consultation. These transfers are recorded to maintain control and manage everything from call answer up until its resolution. Ultimately providing management with a clear picture of the centers call resolution success rates.
3. Multi-channel Communication:
Since UC includes IM, email, conferencing, screen sharing, and more features; there are opportunities for contact center agents to communicate with their customers and co-workers in whatever way suites them best.
A support agent is able to interact with a customer via IM, allowing them to share files, share screens, and carry on a full conversation- accelerating the resolution rate. As a customer having multiple channels of communication available enhances user experiences because they can choose their preferred mode of communication. Not every customer feels completely comfortable talking to an agent over the phone for every little problem, sometimes only an IM is necessary.
UC allows the customer service operation to go uninterrupted with or without all the employees working from a central location. All employees need seamless collaboration to be successful. UC brings a sense of team back through the real-time indicators of where or what their coworkers may be doing and whether or not they are able to work together to achieve a goal faster. Ultimately, unified communications is going to bring these contact center employees together much more efficiently for everyone involved.
4. Metric Monitoring:
Unified communications has evolved traditional metrics to have a different meaning and become less relevant. First, contact resolution is a prime example of the evolving metric methods. If the initial contact comes from a text message and then transitions to a web chat until the agent feels it necessary to use a voice call, before looping a non-contact center employee into the call to finally resolve the problem- incorporating collaboration changes the definition of first contact.
The ways of measuring resolution are evolving with the new ways businesses handle customer contact. If a service agent involves an expert via chat or IM and the issue is resolved quickly, the a way to measure the time saved or the experience of a truly satisfied customer is needed. More effective metrics may evolve things such as a net promoter score, or how likely someone is to recommend or promote your business to others. UC is able to track the time and the resources used with much more effective metrics.
Unified communications evolution within contact centers also leads to insights on ways of providing more effective customer service. Enabling your contact center with UC achieve its goals at new heights- advancing your business's operational and fiscal performance.
5. Reduce Maintenance Costs:
After implementation then proper system training of a unified communication system, user adaptation will quickly follow. Most of UC tools are familiar features found in other daily applications that not only can it cut overall maintenance costs by 20%, but it does so without hindering the efficiency of the call center. As previously explained once in place it will increase the efficiency of the call center.
By combining customer contact channels, a business can deliver a more consistent customer experience needed for user loyalty. All while saving significant amount with system consolidation. It also allows businesses to leverage from the existing technology. So, there is a possibility of not needing to replace the technology in use just yet.