What can a headset do for you? Besides simplifying functionality, enabling mobility and enhancing sound and voice quality, a headset can also benefit your posture and your immune system! We have compiled five compelling reasons that you need to start shopping around for one of your very own.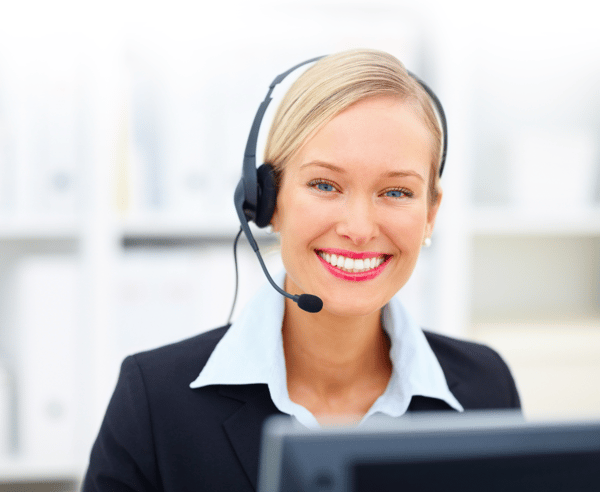 1. SOFTPHONES REQUIRE IT
What is a softphone you ask? A softphone isn't a phone made out of "squishy" material - lol - instead, it is when you have an application on your PC, laptop or tablet that functions as the physical phone on your desk. These products may include an internal microphone and speakers, but the quality of sound and voice are often poor. Using the mic and speakers as your default preference can result in background noise and muffled speech. For maximum quality, using a headset with a softphone is key!
2. ENABLE MOBILITY & PORTABILITY
Whether your job requires regular travel, you work from multiple locations, or you just don't want to be bound to your desk all afternoon, phone calls can be incredibly inconvenient without a headset. Mobility in the office and for remote workers is very important to ensure efficiency in multitasking and increase work productivity. Range in wireless headsets is an important factor to consider. Using a Bluetooth headset your effective range is approximately 30 feet. If you are using it with a mobile device that may be functional. However, if you don't plan to roam with your desktop under your arm, you will likely find that a wireless DECT headset provides a greater range of closer to 330 feet. If you find that you're away from your desk more often than not, then investing in a headset with a longer range may be a better plan.
3. ERGONOMICS & BACK OR NECK PAIN
If you participate in video conference calls, it is an absolute must! Even trying to type up an email while using a headset can be a challenge. By cradling the phone in your neck, you run the risk of causing yourself some serious pain. This prolonged phone use can lead to poor posture and even a strained injury! According to the American Physical Therapy Association's Book of Body Repair & Maintenance, many doctors, chiropractors, and physiotherapists recommend using headsets! Your shoulder was not designed to touch your ear!
4. NOISE CANCELING & SOUND QUALITY
The term "noise canceling" relates to two different types of technology. The traditional noise-canceling headsets introduced prior to the 2000's only seemed to benefit the caller with no direct effect on the user of the headset. The noise-canceling was built into the microphone and filtered out background noise around the user so that the caller could hear everything clearly. As nice as this feature was, it still left the headset user at a disadvantage. Less than half a decade ago, manufacturers introduced "active noise-canceling technology" that provides both the caller and the user with the same feature - thus enabling a crystal clear conversation for both parties regardless of the environment either is working from. It is important to note that both of these technologies still exist today in the market's headset offerings. If you opt for the high-quality, newer technology, you are guaranteed to have a much better experience in loud environments and will notice an improvement in clarity compared to the standard models.

Make sure to note that noise canceling isn't the best fit for every headset user. Consider your environment! If you spend your workday in a private office, a headset with a voice tube will give you the best audio quality. Noise-canceling might not be a good fit for you in this situation because there is no background noise to cancel out, so instead, the microphone may just soften your voice. Conversely, if you spend your workday in an open environment or cubicle, a noise-canceling mic will be critical for optimal audio quality.

Insider Secret: There is often a misunderstanding that noise-canceling headsets eliminate sounds, like dogs barking, babies crying, etc. This is not the case! These noise-canceling technologies target human voices that may be present in the background and reduces them by up to 75%. If you decide to explore Bluetooth headsets, make note that these attempt to minimize noise but their primary goal is to cut down wind noise that is picked up from being outside.
5. CLEANLINESS
A study conducted by the University of Arizona concluded that telephones could be contaminated with up to 25,000+ germs per square inch - AND that phones have 500x more bacteria than the average toilet seat. If you aren't grossed out yet, you should be!

Your headset can save you from dangerous bacteria! This does not mean that your headset is immune to germs, however. It is recommended that you do the following for basic (and useful) long-term headset hygiene:
• Replace leatherette or foam ear cushions every six months, or sooner if clogged with makeup or otherwise soiled.
• Replace windscreens (microphone covers) or voice tubes at least every six months.
• Clean the headset plastics, consoles and equipment using anti-bacterial wipes or non-alcoholic antiseptic solves.
• • • • • • • •
Are you ready to start exploring headsets?
If you have an Avaya IP Office system, we have created a guide just for you...
Headset Compatibility Guide: Wired and Wireless for Avaya IP Office!
• • • • • • • •
If you have any questions, give us a shout at 888.84.RONCO or send us an email at marketing@ronco.net!