Imagine being able to work from anywhere, at any time. Your work day becomes dramatically different and dare we say... customizable. What a crazy concept, right? Telecommuting is quickly becoming an attractive option for many employees, but especially Millennials.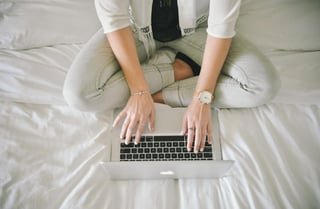 In every industry, technology-centric culture is making waves in business operations. "Going to work" is now less about being in the office and more about getting things done, servicing clients with whatever means necessary and improving overall efficiency. Cloud computing and unified communications, make accessing all things work related possible from just about anywhere. Working remote, teleworking or telecommuting consists of a variety of work arrangements that allow employees to work from their homes, a remote office or the beach! This is the kind of deal Millennials look for to accommodate a work-life integration.
The Millennial employee has an underlying desire to shape where they work, to make a contribution and to see that the role they play has a direct tie to a benefit in both their company and the world around them. As a generation commonly called "digital natives," Millennials have been able to pick up a smartphone and know instinctively what to do with it for just over a decade. Having the latest technology and being able to quickly connect with peers digitally is a major part of their lives outside of work, so why is it a surprise that executives receive negative feedback from this new work force when their telecommunication services are outdated? Or off-putting when updated technology is available, they are strapped to the confines of a cubicle?
Growing up in the late 1990s and early 2000s with instant messengers like AOL and AIM, the need for quick and effortlessly collaboration came to fruition. These messaging services evolved quickly into customizable social media platforms like Myspace, Facebook and Twitter that added a personality and profile to the username. Following in suit, video chat and voice call services became available through applications such as Skype or ooVoo. These apps opened up the opportunity to connect with up to 6 different people simultaneously for free, what could be more ideal? This access to unified communications cultivated an extremely collaborative generation.
So why do they want to work from home?
Since continuously evolving technology has always been available for this generation, the dire need for face-to-face or interpersonal communication has decreased respectively. Therefore, the value of workplace flexibility has taken precedence over all other benefits. Documented in a study done by Forbes, 92% of Millennials want to work remotely and 87% want to work on their own clock. They value work-life integration, not separation like the previous generations. If the technology is available to stay connected and there is a proven increase in productivity, why limit yourself?
What benefits does telecommuting have for the company?
The flexibility and mobility capabilities from unified communications features are a competitive selling point in attaining the best possible candidates for a position, especially those to be filled by Millennials. Hundreds of companies nationwide have taken the initiative to offer work from home programs. Some of these programs entail one day a week, others are full-time remote positions. What Millennials seem to interested in most is having their cake (being able to travel) and get it too (not use PTO). They want to be able to travel, whether for business or personal reasons, without losing days at work. They are more than willing to work during the day and play at night, but there are tips and tricks to organize remote workers for your business.
In the United States, 3.3 million full-time professionals, excluding volunteers and the self-employed, consider their home as their primary place of work. It has been recorded that telecommuters save between $600 and $1,000 on annual dry cleaning expenses, more than $800 on coffee and lunch expenses, enjoy a tax break of about $750, save $590 on their professional wardrobe, save $1,120 on gas, and avoid over $300 in car maintenance costs. When work from home programs are implemented, these monetary rewards are reflected in businesses, most save as much as $2,000 per year per person, with a 50% reduced turnover rate.
Though most telecommuters work more than 40 hours per week, they have been known to work harder to create a more cooperative and positive work environment for themselves and their teams. 82 % of work-from-home professionals have also shown a reduction in their stress levels with 80% improved morale, 70% increased productivity and 69% fewer missed days at work. Personal satisfaction and quality-of-life are also reflected in the 45% of telecommuters who enjoy more sleep, the 42% that eat healthier and the 35% that get more physical activity.
Telecommuting doesn't work for everyone though, right?
Right! We are nowhere close to a completely remote workforce. Some employees who work from home return to the office for various reasons; they were lonely, they found their environments too distracting, they felt as though they were missing out on opportunities to create new connections or career paths, etc. The general rule of thumb is that if people are offered a mixture of both environments, they are going to feel less disconnected from their co-workers and more accommodated in terms of flexibility. This means that telework programs must be well thought out in order to be effective. "If you were to implement a program, are your employees ready? Are they interested? Are your managers ready to manage virtually?" In many cases right now, the answer seems to be no. The adjustment from defining work as something you do instead of somewhere you go isn't an overnight process.
So how do you accommodate these Millennials?
Introducing a simple telecommuting program that allows employees 1 day a week of remote work is a good place to start. You'll quickly learn whether or not the program is costing you or saving you, and what the next step is from there.
To empower this next generation to be successful and strong contributors, it is going to take more than just the right set of communications tools. You also need to know who you are hiring, how they function in the workplace, and ultimately what they value. The Millennial mentality is all about balance which can be beneficial to any company. We've looked into the 4 major Millennial personas illustrated by LinkedIn's marketing group and composed an infographic tailored to help decode this generation. Millennials as a collective group, thrive off of feedback and excel in developing professional connections. With 86 million Millennials as active users on LinkedIn, this compiled set of characteristics, habits, values and data- serves as the perfect key in developing a deeper understanding and how to get the most out of your Millennial investment.