While we reflect on the year behind us, it's only right to give our team's frontline workers a special shoutout. Without the unwavering commitment of our technicians, engineers and clinical consultants, we wouldn't have made it through 2020.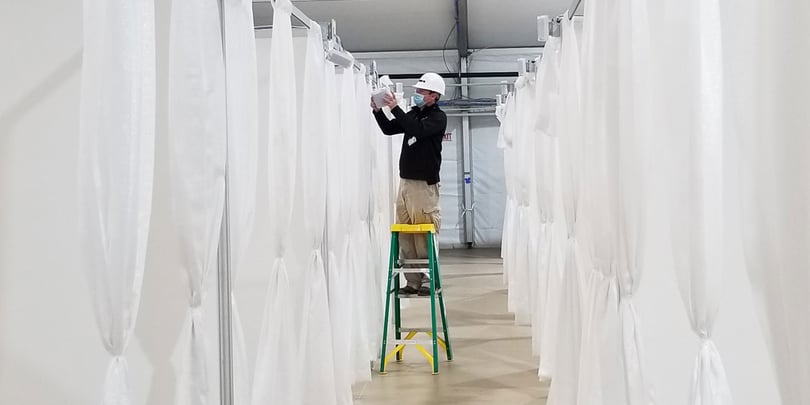 It's important to note that while we specialize in the business of system integrations, it is our people working in the field day in and day out, supporting our customers that are the backbone of our organization.
Our teams have decades of experience in accommodating our customers' visitation protocols. When COVID-19 disrupted the country last Spring, contractor and site expectations began to change, and our teams had to dynamically shift to meet them. On top of our strict testing protocols, our teams have been getting regularly tested as they check in to each site. In some cases, where they need to work on COVID wings or in occupied COVID rooms, they are suiting up in head-to-toe PPE alongside the nursing staff.
"We've had to change our mindset," shared Stacey Dodge, Director of Design & Implementation. "Business as usual in these healthcare facilities is obviously a thing of the past, but we could've never anticipated all of the little things we'd have to reconsider in our workday. Like being mindful of what surfaces we come in contact with, what floor or unit we engage on, turning the education room and equipment over, how we interact with staff and how careful we are when removing our own PPE and ensuring our personal safety. The entire environment and how we work has changed."
"There are new checkpoints every day," adds Danny McCurry, Installation Manager in North Carolina. "With safety measures changing so frequently, we have had to – and continue to – adapt quickly."
"Yes, we have," agrees Damon Zarcone, Executive VP of Operations. "In these very difficult times, our ability to adjust our processes to accommodate the heightened safety protocols has allowed us to maintain the high level of service and support our customers have become accustomed to. The way our teams have been able to plan and adapt to critical and extremely time-sensitive requests, such as working around the clock, over a several day span to assist in converting a campus parking lot into a 400-bed COVID-19 unit, has been truly amazing."
It's no surprise that these environmental shifts have added a layer of stress to our team's work, but these professionals' conviction to get the job done right has not faltered.
"Despite the COVID-related complexities brought into the workplace with additional PPE and the added stress of heightened health and safety concerns, the quality of our work and the levels of customer satisfaction have not changed," shared Christopher Nagy, Director of Service. "That is something to be proud of, and it's certainly something worth highlighting – giving credence to the dedication of our professionals and recognition to our teams."
As natural innovators, we've also had to find creative ways to minimize staff exposure where on-site presence isn't necessary. We've taken our education sessions for facility end-users online in a virtual format, and we've utilized video calls to perform real-time system testing with the on-site nursing staff. "Accounting for how we are going to keep our team safe is our number one priority," says Zarcone.
"You know you have a dedicated team of professionals when they reflect on these field changes and say, 'It's our job. If doctors and nurses can put themselves at risk, I can too,'" adds John Burns, Director of Shared Operational Services.
As a company, we are truly honored to play even a small part in assisting our first responders in the amazing lifesaving work they do. Thank you to our teams who have shifted the way they work to accommodate this last year's turn of events – your hard work and dedication is what got us through.