While the argument can be made that training clinical staff on the latest technology is expensive, we'd like to explain why it's absolutely essential for facilities looking to make the most out of their technological investments, retain a strong workforce and improve patient care. Here are our top three reasons why clinical teams need nurse call system education (in no particular order of importance):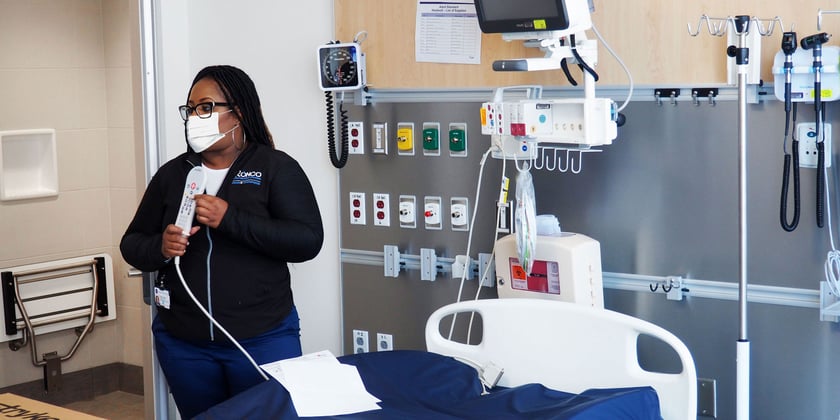 Pictured is Orlane Benau at Kimmel Pavilion at NYU Langone Health in NYC, NY
1. Minimize Alarm Fatigue & Increase User Adoption
We've talked before about alarm fatigue and the negative impact it has on clinical staff. Two of the leading contributing factors to alarm fatigue in hospital settings are inadequate staff training on monitors and alarms and inadequate staff response to alarms. In 2018, the American Association of Critical Care Nurses recommended that nurse leaders "provide ongoing education on monitoring systems and alarm management for unit staff," and our team agrees.
"One of my favorite sayings is, 'It's never a problem until it's a problem.'" said Orlane Benau, Clinical Design & Implementation Specialist at our Columbia, SC office. "What may seem like one more device being added into the system could be enough to push one over the tipping point. Their clinical environment is already tightly packed with various devices causing alarms, tones and alerts. So, staff may feel like this is just one more thing that they don't need in their space. System education is a huge part of achieving buy-in and is ultimately the foundation for user adoption."
"Exactly," says Tamela Gilman, Senior Clinical Design & Implementation Specialist at our Charlotte, NC office. "Installing equipment and software without a true plan for explaining its purpose, emphasizing how it can help with staff's day to day duties, and providing detailed instructions on how to best use it, can cause serious confusion and frustration for the facility's end users. If staff are frustrated and don't understand something, it's safe to assume that the system will not be utilized to its fullest capability."


Pictured is Jamie Reichel, MSN, RN at The Bone & Joint Center in Malta, NY


"I can attest to Orlane and Tamela's points," shared Jamie Reichel, MSN, RN, Clinical Design & Implementation Specialist at our Albany, NY office. "I used to work in a newly built Emergency Department that was full of new equipment. I do not remember ever receiving, or having the option of receiving, nurse call education. I often remember asking my coworkers what one of the devices located at the headwall in each patient room was for. No one knew. After a few years of placing patients on 3rd-party bed alarms and struggling to find which room the alarm was coming from, we discovered that the bed alarm could be plugged into the unknown device and be monitored by the nurse call system. Had staff known this right from the beginning, it would have saved a lot of time, frustration, and possible falls trying to figure out which room the alarm was coming from."
2. Proactively Address Staff Turnover
The nursing profession in the US continues to face shortages due to a lack of potential educators, high turnover and inequitable workforce distribution. A study in the 2020 National Healthcare Retention & RN Staffing Report indicated that the national hospital turnover rate was 17.8%, and the RN turnover rate was 15.9%. Pair these numbers with the cost of replacing a single nurse (estimated to be $36K-$88K), and you can see that healthcare leaders across the nation are challenged with how to reduce turnover rates. To retain a strong nurse workforce, we recommend prioritizing continuing education in conjunction with a strong onboarding approach.
"We encourage our clients to consider continuing education initiatives so that new staff hired after our initial implementation are not left behind," says Gilman. "A five-minute overview with a co-worker just doesn't suffice. Each staff member deserves the same attention to detail that our team provides when the system is rolled out."
"The reality is that nursing staff come and go," says Benau. "If they were not a part of the initial installation of the facility's nurse call solution, they likely have little to no understanding of its components or the overall impact. Too often I have seen staff struggle to understand all of the devices and their capabilities. Things that could and would streamline their workflow processes get lost and ignored simply because there was no one available to educate staff on a questionable device or workflow."
"I agree with Orlane," says Christina Romero, Clinical Design & Implementation Specialist at our Charleston, SC office. "If the advantages of the system are not realized through led instruction sessions, the value of the workflow is erased over time."
3. Faster Patient Care & Improved Patient Safety

Increasing patient satisfaction scores begins with prioritizing efficiencies that empower better patient care. When nursing staff has a strong understanding of their communications platform, they can spend less time hunting down the location of an alert and more time focusing on tending to the patient's needs - ultimately increasing HCAHPS scores.

"Education is the key to understanding the impact your nurse call system has on your patient's care," says Cinzia Chadderdon, Senior Design & Clinical Implementation Specialist at our Rochester, NY office. "From your site's customized corridor light patterns to the unique tone of a call, each enhances your response to patients' needs. Understanding system functionality can be the difference between life and death in some circumstances."

Pictured is Cinzia Chadderdon at ECMC in Buffalo, NY
"Absolutely," Reichel agrees. "It's all about patient safety."
"We have to understand that many nurses have worked at facilities where the nurse call was no more than a glorified doorbell," shared Romero. "The complexities of these next-generation systems require an education plan that is just as comprehensive as the system. Nurse call has evolved from its initial means of summoning a caregiver. Now it is a tool for fighting hospital-acquired infections, falls and pressure ulcers. It provides valuable data to assist in staff models."
"Exactly," agrees Gilman. "These newer systems are fully integrated to tie in wireless devices, send and receive critical information between departments, locate staff and patients through realtime location systems, report out customized information and most importantly, improve staff workflows so they can respond to patients in a timely fashion."


---
Pictured is Stacey Dodge at Mission Hospital in Asheville, NC

Why Ronco Education?

"I can't imagine why any facility leader would ever consider NOT capitalizing on our education resources," says Gilman. "Ronco's commitment to making the client's end-user experience seamless is second to none in our industry. Our Design and Implementation team provides customized education sessions and materials to ensure that our clients understand how to operate and utilize their technology and leverage it for long-term workflow optimization. We can do this because of our extreme focus, knowledge, and capability to create customized solutions."

"It's worth noting that when we say 'customized education,' we truly mean it," adds Reichel. "I've had many staff members tell me how much they appreciate that we highlight the changes of their old system to their new one, both during on-site education sessions and via nurse call hardware education material that is created specific to each site."


"Our team is expertly skilled in all the features that this solution can bring to the clinical environment," says Romero. "We are undoubtedly a resource worth investing in."
---
Interested in Education Sessions?