You are in the market to upgrade your company's business communications system, so that means you're doing your research- Which solutions will enable your current users to do more with less? What does the budget allow? Which provider will ensure these needs are met, under budget and will support you after? Woaahh. This process is an investment in not only time and money, but in your people and how they work. It will ultimately streamline business workflow, reduce the IT department's workload and lower cost of operations… who doesn't want that?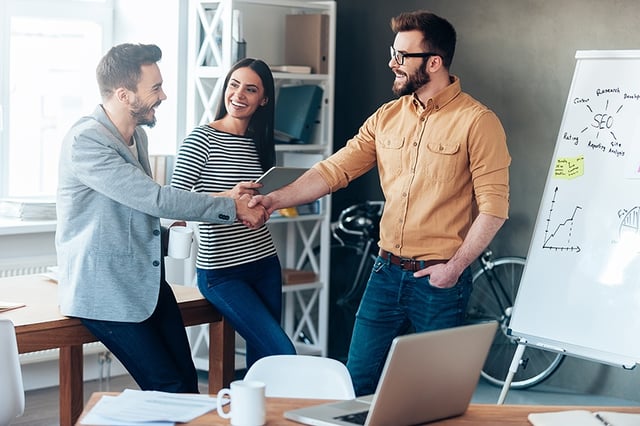 If only upgrading your communications solution was as simple as picking out which phone you like or which plan offers the best features. Unfortunately it's not that's why a provider all the more important. A thorough understanding of each provider's service offerings, core expertise and partner satisfaction ratings are vital when investing in a tool that more mission-critical then most perceive. We have compiled 5 key considerations to keep in mind when researching.
Score The Solution Architecture
Most companies are making the move to the cloud- it just makes sense in terms of scalability and overall feature stack. But cloud deployment might not coincide with the wants and needs of every company. Some companies fear the security behind the data cloud storage while others need to control data locally with immediate accessibility. Others shy away from the idea of monthly payments and prefer to own their system and pay only for maintenance as needed. So it becomes essential for the right provider to offer cloud, onsite and hybrid solutions tailored to your liking.
The right provider will offer flexible deployment options backed by always-on, secure systems. They will implement solutions built to work seamlessly with or without third-party integrations and still ensure reliability. Heaven forbid, your equipment fails or your network goes down, the right provider will ensure automatic fail-over with limited service interruption- understanding the imperative nature of keeping you connected when it matters most. Security is always a top concern a decision maker faces. The right provider will not only offer enterprise-grade, end-to-end security for voice systems, but also public and private network options too with secure network encryption.
Apps & Features: The Value of End User Experience
The needs of the users are not to be overlooked when exploring the unified communications featured offered by each provider. The right provider will customize a solution that includes simple, instant messaging, email with calendar integrations, and softphones to start; then later add in desktop sharing, video conferencing, file sharing, and other UC tools.
Many vendors specialize in VoIP solutions and throw together partner products in order to successfully offer a UC solution. This patchwork of applications can create complexity in user adoption, which slows down productivity- not to mention give your IT personnel an absolute headache.
Be wary of those who over-promise only to under-deliver a unified communications solution with complicated platforms and poorly integrated features. The right provider will make it possible for users to escalate a conversation from online chatting, to a voice call, into a conference call with shared screen presentations and other collaboration integrations. All this done by merely clicking icons within a single interface and from any device. Quick and easy in-person training drives up adaptation rates, which shows the value of your ROI sooner.
Superior Implementation & Support
The years of industry experience and customer service ratings predefine the caliber and competency level the engineers can provide. Implementation and design are important predecessors to deploying am IP communications system fully equipped with UC capabilities. A skilled engineer will ask the hard questions and make proactive assessments to ensure flawless deployment.
Once the solution is deployed, the right provider will offer ongoing network optimization and managed services. A dedicated team should be there for assistance around the clock. The provider should make sure that you experience little-to-no downtime in the event of system failure and have an emergency plan in place for mission critical issues. Training and certification opportunities for all users, especially the IT staff, is important to look for in the right provider.
Pricing or UC Value Proposition?
Though competitive pricing is commonly a deal breaker for a decision maker, the price tag doesn't necessarily represent the value of the solution. Remember the timeless saying- "You get what you pay for." The cheapest route might turn into the most expensive solution if poor call quality or unreliable services cause costly downtime, repairs and unforeseen maintenance down the road. Hidden costs can decrease the value of otherwise exceptional solution offerings, so it is important to take into consideration the IT administrative, integration and maintenance expenses accompanied by each vendor's solution. The best comparison of provider pricing will include a review of TCO (Total Cost of Operations). This analysis considers capital investment, implementation costs and operational expenses for the first year and coming five years of service deployment.
Does the provider offer a UC solution with superior user experience with all of the apps and features integrated into a single platform/solution? If the answer is no, then it's time to keep looking because let's face it... it's not you, it's them.
Provider as a Business Partner (PaaBP)
Your solution will only be as strong as your provider-partner relationship. The right provider will work with you to ensure that your customized solution is tailored to your business needs. Consider each provider's brand, longevity and reputation in the field. Your partner's approach to working with you should feel customer-centric and focused on meeting your needs, not their agenda. The vendor's portfolio should contain extensive evidence to support that their solutions and customer experience reviews make the grade. Be sure to investigate each vendor's plan for the future. A distinct roadmap should give you peace of mind knowing that they are fully prepared to keep pace with future technological developments.
Choosing the right provider/vendor can make or break your unified communications business system. Knowing what to look for is crucial to business success, so get started today with our downloadable Telephony Solutions Provider Checklist!

Interested in talking to one of our professionals about Ronco Communication's UC solution? Put us to the test and call the number below to get started on upgrading the way your organization stays connected!