Every parent's greatest worry is their child's safety. Typically, they don't worry or think twice about sending their children to school. However, school can be a dangerous place. More and more, we are seeing lock-downs, emergencies, and even school shootings. A customized and comprehensive security and emergency response system is vital to keep a school (and your child) safe.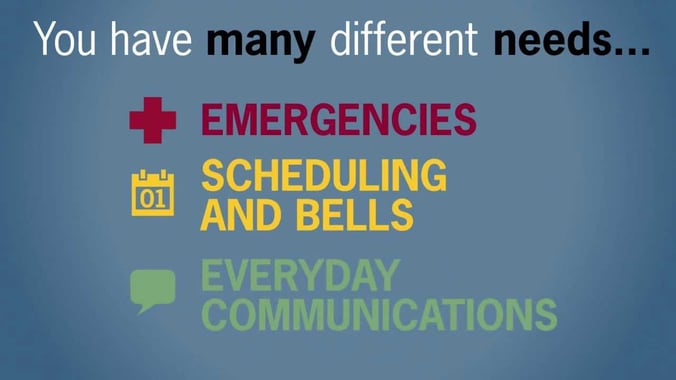 Okay, so jumping straight to school shootings may be a bit extreme, but it can happen. Telecenter U puts in place a system that encompasses many things, including an emergency response system. This system is a proactive approach to crisis scenarios, dealing with lockouts, lockdowns, evacuations, weather emergencies, and other situations that demand a rapid response.
Telecenter U allows for anyone with permissions to log into the system and activate emergency sequences triggered from a phone, web browser, or panic button. The username will determine which school/ room/ teacher is setting off the alarm, and thus will allow for an immediate customized response.
Telecenter U is a well-rounded system that is designed to help in more ways than just emergencies. Telecenter U covers the three E's: emergencies, event management, and everyday communication.
Emergencies, touched upon above, allow for the school district to track responses across the school or district. It also utilizes pre-recorded messages to deliver custom instructions dependent on what needs to be done. Of course, one cannot pre-plan every possible scenario, so there are abilities to send live, custom messages in case of emergencies.
Event management, or using smart schedules, helps to synchronize everyone across the district automatically. Time management is made easy, updating everyone on holidays, snow days, and other school closings. The system also controls things such as ringing bells and syncing clocks.
Children will love the system, especially in terms of snow days. Getting that automated call at 6:40 in the morning saying that, "due to inclement weather conditions, all schools in West Seneca Central Schools are closed" was the highlight of my snow days. I remember listening closely for the phone to ring every morning in the winter. Little did I realize that the message was delivered across the entire school district with one click of a button.
Everyday communication is covered with Telecenter as well. Experience every day running smoothly with a fully integrated system that links schools and the district. By utilizing straightforward and targeted communications, everyone is ready to take on the day.
Still not convinced Telecenter U is right for you and your school?
Parkway Public School District serves eight municipalities in western St. Louis County, Missouri. With four high schools, one alternative high school, five middle schools, and eighteen elementary schools (along with two preschools), communication for emergencies and everyday practices are vital.
Utilizing Telecenter U and taking the plunge with Rauland, Mike Mertens, Director of Facilities in the Parkway School District opens up about the hybrid approach that was implemented and how it benefited the school district. James Swingle, Manager of Parkway's Planning and Construction Services, also speaks on how it improves the school district.
From cost-effective security upgrades, to 1-touch emergency response, Parkway School District cleans up their older system and looks toward a straightforward and centralized means of updating scheduling and events, as well as future enhancements such as emergency buttons, phone buttons, and smartphone apps that initiate emergency procedures that can (and will) be implemented in time.
Interested in learning more about Parkway School District's case study?
With Telecenter U by Rauland, the safety of students and the management of district communications go hand in hand making outcomes predictable and dependable.