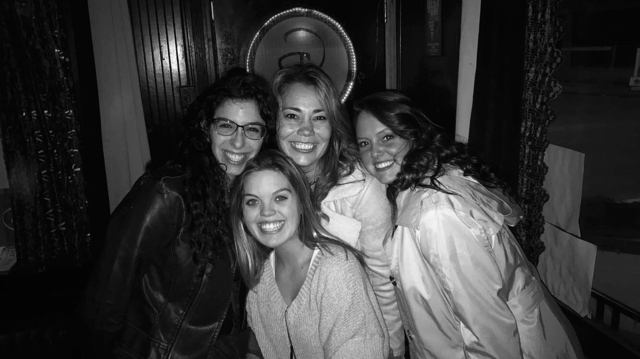 This week, I finally conclude my time as a Marketing and Communications Intern at Ronco Communications. Boy, what a ride it has been! I came here with very high hopes and Ronco exceeded my expectations by far. Working here in their marketing department has not only been transcendently helpful in terms of excelling my skillset, but also so much fun and extremely rewarding. Working side by side with Liz, Christina and Emmi has been such a pleasure and I have acquired some great connections, and even more importantly friendships, along the way.
Before coming to Ronco, I would have liked to think that my marketing experience was well-versed, but the knowledge I have gained throughout the duration of my time here has become invaluable to my continuously growing skillset.
This internship has exposed me to a much more creative side of marketing. I have dabbled in:
Blog writing

Inbound Marketing strategies through HubSpot
Collateral creation (i.e., newsletters, white papers, advertisements and internal posts)
Social media management
Trade show events (i.e., InfoTech WNY's 2017 BETAS Awards)
The business world is evolving before our eyes, so it only makes sense that the way we communicate is too. Communication is undoubtedly one of the most important factors for business success. With the reveal of new innovations year after year, it has become increasingly important for business leaders to keep up. We have come such a long way in the communications world and I can only imagine where we will be in years to come.
I have specifically learned so much about the importance of Unified Communications (UC) in the workplace. Having the right set of tools, such as instant messaging, video conferencing, presence indicators, and VoIP telephony in one application makes for a more efficient workplace and a more conveniently structured bridge of communication both internally and customer-facing. UC truly helps companies save time, money and IT resources. From doing research and throughout my own experience here, I have learned that UC makes remote work not only possible but seamless- cutting down on travel and overhead costs. All of these aspects make UC a great choice for your business and for you when considering the importance of work-life balance.
I've done a lot of great things at Ronco, but the project I am the most proud of by far is one that I have recently collaborated on with our Graphic Design Marketing Intern and close friend of mine, Emmi. We created a white paper from our blog series "The Essential Guide to Understanding Business Communications". It was a surreal feeling to be a part of this and to know that I had helped to create such an awesome piece of collateral for online and print utilization. While I worked on the tiresome task of composing and editing, and editing again... and again, the content, Emmi used her brilliant InDesign and Photoshop skills to create the design. We are both really happy with the outcome and that was definitely one of the most rewarding projects I have done during my internship here.
All in all, I am both extremely lucky and extraordinarily thankful that I have had the opportunity to take on this role and grow as a professional. I simply cannot stress enough the importance of the knowledge I am walking away with and of the strong connections with the people here that I know will continue to aide in the success of my future endeavors. Ronco Communications is a great company to work for. The encouraging and hands-on environment paired with the supportive and friendly people make for any intern's ideal office space. I will always be grateful to Liz, Christina and Emmi for what they have showed me- and even more so for guiding me when I truly had no idea what I was doing (insert laugh here *hahaha*). Thanks for a great couple of months Ronco, now onto the next big thing! :)