Enable distance learning with lecture capture and video streaming all in one easy-to-use device. Provide remote students with real-time presentations, broadcast live events and create an on-demand video library in minutes with user-friendly controls! Here's an overview of the device and my personal thoughts on its application for empowering education.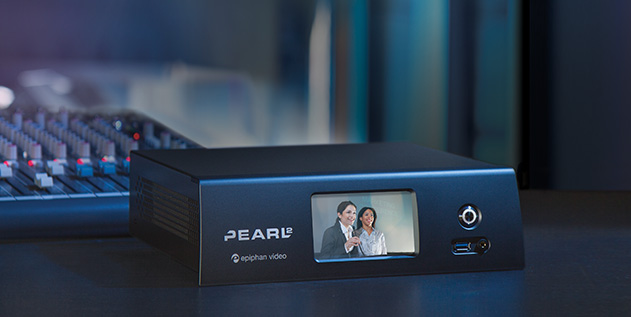 An Easy Way to Create Live & On-Demand Videos for Streaming
Using this device's built-in touch screen, you can simultaneously capture, process, manage and deliver lectures, presentations and events to several content delivery networks (CDNs), like YouTube or Facebook, with the push of a button.
Streaming Is No Longer Optional

With the shift to remote learning, your technology must be versatile enough to accommodate streaming from any space. This device can be used in many different locations; classrooms, auditoriums, gymnasiums and meeting spaces. Campus-wide announcements, live interviews, presentations, and practically any other type of event can be easily streamed using a portable ad hoc studio.
Up to Thirteen Inputs, Easy To Use with Existing Technology
Connect cameras, computers, imaging equipment, or just about anything to Pearl-2. It contains multiple video inputs like HDMI™, SD and, USB, as well as network-based H.264 RTSP, NDI®, NDI|HX, and SRT sources. The web page application gives you remote control with a real-time video switcher for live productions and switching layouts on the fly.
Full API integrations provide an effortless lecture capture and enterprise communication setup experience. Integration with Kaltura and Panopto CMSs eliminate complicated stream URLs.

Easy Software

From the web-based Admin panel, creating page layouts couldn't be easier. Using the software's drag-and-drop controls, you can add titles, images and various other sources into your layout. Add your cameras and mics and you're up and running. The unit also has a lot of extra features like a built-in, real-time transcriber and a Chroma keyer.
Video Storage
Multiple options are available for archiving your lesson plans - internal hard drive, USB, or SD card. You can even schedule the recordings to automatically upload to a remote drive or an LMS server, making them available for streamers in a matter of minutes. Why not just use a computer? Using a dedicated encoder with its own processing hardware is more reliable than a computer with software.
Smart Room Design

Integrate the Pearl with a Crestron automation system to expand your systems' capabilities. Control cameras, sound, lights, displays, shades, scheduling and every room or building control under one touch GUI.



My Review
This is the best little box I've been privileged to play with in a while. As long as I can remember, I've enjoyed taking things apart to figure out how they work. I've always had a knack for giving new items constructive criticism. So, I'm very happy to say that I have no complaints about this toy and I highly recommend trying one out. Trust our teams to integrate this into your existing technology for optimal return.
Other applications for this device include Marketing, Corporate, Live Events, Health Care, Courts, Worship, Art/Dance/Material Arts studios, Town Hall Meetings, Real estate, and anyone that wants to post training videos.
---
Compare The Models
While the Pearl Mini and the Pearl-2 are similar in design and function, there are significant technical differences between the two.
Pearl Mini

Pearl-2

Video inputs

2 × HDMI™
1 × 3G SDI
1 × USB

2 × 4K HDMI




2 × HDMI




2 × 12G SDI




2 × USB

Audio inputs

2 × XLR/TRS
1 × 3.5mm
1 × RCA

2 × XLR (stereo)




1 × Stereo RCA

Video over Ethernet (RTSP, NDI)

RTSP: Yes




NDI: No

RTSP: Yes




NDI: Yes

Resolution support

Up to 1080p (Full HD)

Up to 2160p (4K)

Chroma key

No

Yes

Encoded programs

3 × 1080p 30 fps

2 ×1080p 60 fps
6 ×1080p 30 fps
1 ×4K 30 fps

Removable storage

Yes, SD card

No

Hard drive

No

Yes, 512 GB SSD

Additional models

No

Pearl-2 Rackmount





Pearl-2 Rackmount Twin

Size

10.25" × 6.75" × 2.375"
(261 mm × 172 mm × 60 mm)
Pearl-2:


11.8″ × 9.5″ × 3.5″ (300mm x 240mm x 90mm)



Pearl-2 Rackmount:


19.1" × 3.5" × 10.9" (485 mm × 89 mm × 276 mm)



Pearl-2 Rackmount Twin:


19.1" × 3.5" × 10.9" (485 mm × 89 mm × 276 mm)

Weight

3.8 lbs (1.7 kg)

Pearl-2:

8.4 lbs (3.8 kg)



Pearl-2 Rackmount:

12.1 lbs (5.5 kg)



Pearl-2 Rackmount Twin:

14.6 lbs (6.6 kg)