The days of passing a microphone around the room during a presentation's Q&A are now behind us. Professors, audiovisual professionals, and event planners have to reimagine what it means to engage audiences. For some, the concern is hygiene-related, especially right now with social distancing guidelines in place to limit the chances of infectious spread. For others, it's providing remote users with the same rich experience that in-house attendees receive. So how do you empower collaboration with these barriers in place? Partnered with Biamp, we may have the answer.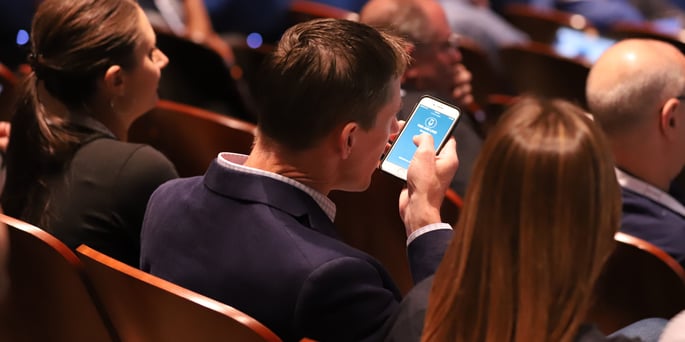 This article was originally published on the Biamp blog and has been reposted with permission from Biamp.
Written By: John Urban, Product Marketing Manager at Biamp Systems
- - - - - - - - - -
As part of our dedication to relentless innovation and to avoid these kinds of disruptions, we developed Crowd Mics, our revolutionary audience engagement solution that turns anyone's smartphone into a wireless microphone. Crowd Mics is perfect for the participants and moderators of presentations, lectures, panel discussions, and similar events.
Many of these events involve remote participants of some kind, whether it's an overflow room for a keynote presentation, or a multi-office company meeting. We recognized that these distance attendees deserve a voice too and should be able to participate and ask questions as if they were in the same room as the local audience. To support them... we launched Crowd Mics Online.
Crowd Mics Online elevates local events to a global stage, enabling remote attendees to enjoy the same real-time participation options as those in the room…whether they're across the hall or on the other side of the world. Crowd Mics Online provides all participants – both local and remote – with the same ways to interact: by using their smartphone as a personal mic and enabling the means to text questions to the moderator and take part in audience polling.
As with the original version, event moderators maintain full control over the proceedings, deciding who speaks and when to turn off attendee mics. Additionally, Crowd Mics Online also works in parallel with UC meetings to add remote voice capabilities and interactive polling without the need to join a meeting individually.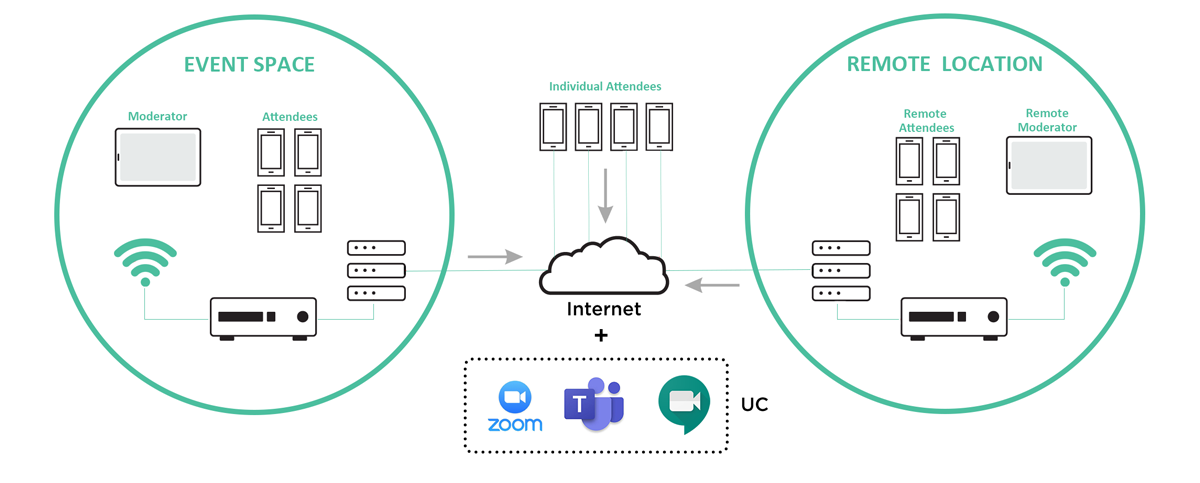 As An Application For Social Distancing
How do you reach the same number of people when you're forced to gather in smaller groups distributed across a wider distance? The transition to virtual seminars, conferences and even classroom environments has been a fast one. As public health officials juggle what's next, it's important to have options laid out in preparation for a "new normal." Don't let distance compromise your audience's experience or weaken your message.
Biamp as Our Partner
As Biamp System Integrators, we offer an entire portfolio of networked media solutions to include: Tesira® media system for digital audio and video networking, Devio® collaboration tool for modern workplaces, Audia® digital audio platform, Nexia® digital signal processors, Vocia® networked public address and voice evacuation system, Cambridge® sound masking solutions, and loudspeakers for installed sound applications.
Applications include corporate boardrooms, conference centers, huddle rooms, open floor environments, performing arts venues, courtrooms, hospitals, transportation hubs, campuses, retail, hospitality, military and government, and multi-building facilities.
Ronco's industry experts have more than 40 years of experience in audiovisual integrations. We approach each project as an extension of your team and work diligently alongside your staff to empower a lasting relationship and better experiences for everyone.
---
Interested in learning more? Schedule a consultation with us today!