It's that time of year again! Daylight Saving Time (DST) begins this year on Sunday, March 14th, at 2 AM. Maintenance teams, facility managers, IT staff, and anyone else in charge of keeping a building running smoothly typically dread having to adjust every clock in their facility to account for this change. With synchronized clock systems, that hassle is a thing of the past, thanks to automated updates! There are, however, still two essential things you need to do for good measure.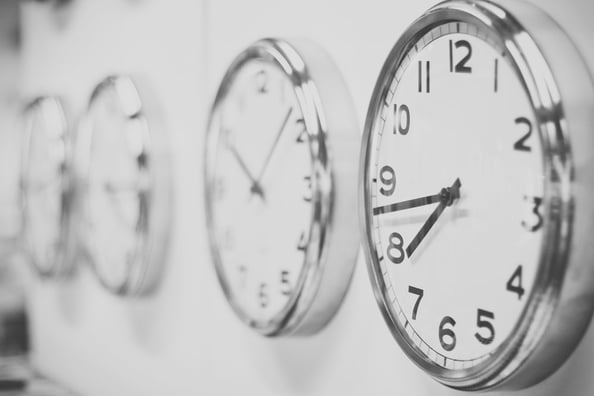 Test Your Master Controller
Confirm that your master controller displays the correct time, time zone and DST setting. If it doesn't, check the associated power cables, plugs and antennas. If you want additional assurance, check the master's network settings as well. For Wi-Fi clocks, check your SSID, passphrase and time server. For Power over Ethernet clocks, check your time servers and the cables connecting the network to the clocks. For wireless clocks, check the power at the system controller.
Check Your Power Source
Even with automatic updates and adjustments, checking the power source is always a wise decision to ensure that your system is syncing in unison. For wired clocks, unplug them and wait until the time is different from the master before plugging them back in. For wireless clocks, remove the batteries and wait for the hands to come to a stop before returning the batteries to the unit. It also wouldn't hurt to check your battery life (1.5 volts or more are needed). You know you're in business if the clocks re-sync as they receive the signal from the master. This process could take 24 hours to complete.
When clocks function in unison, facility operations as a whole are much more efficient, and maintenance teams see a return in time otherwise allocated to programming, adjusting and fixing the systems.
---
A Sapling Partner
Sapling is out top vendor for synchronized clock systems. Sapling is a leading manufacturer of wired, wireless and IP synchronized clock systems that are installed primarily in the education, healthcare, manufacturing and transportation industries. With their products and our integration specialists, automation couldn't be easier.
Still Changing Clocks by Hand?
If you aren't using a synchronized clock system, you are likely spending more time adjusting the system than you realize. Use our Lost Time Calculator to see just how much time you could be spending on more important projects and tasks.