A/V is "trending" in higher education. This means audiovisual technology is circulating as a hot topic within the education market. Everyone is talking about it, and they are using terms like IP, wireless, connectedness, improvement, and simplicity. Understand why it's important and why you should consider the investment.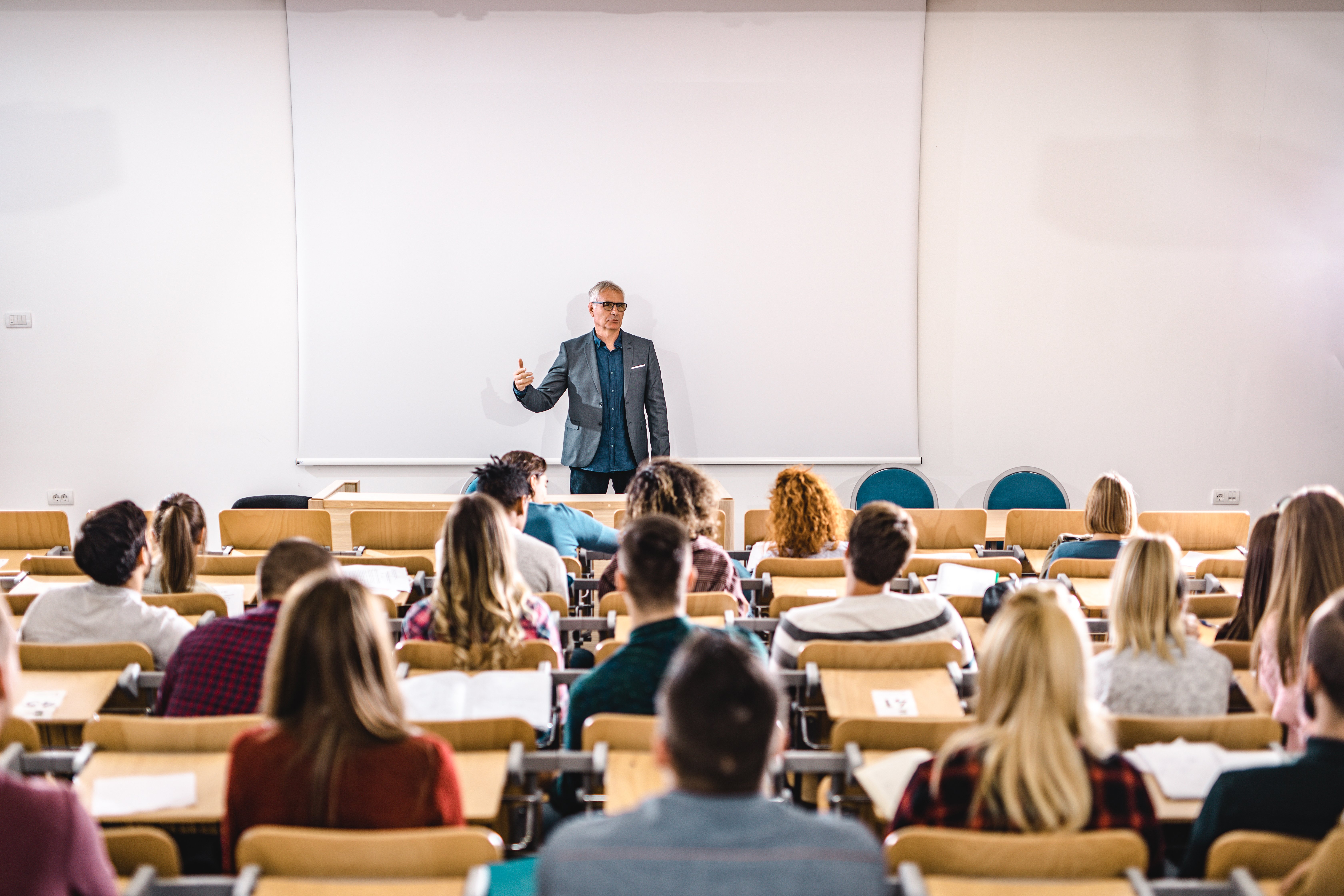 IP: In higher education, it is becoming standard that A/V system upgrades are run over IP networks. IT professionals are shifting towards streaming encoders and decoders operated through standard network switches.
This can help your school by allowing remote and local connections. The ability to run on the existing IP network optimizes your classroom space by taking location out of the equation.
Wireless: Everything is going wireless. Not only in higher education but across today's technology as a whole, systems are frequently designed to connect wirelessly. In schools, wireless A/V devices enable collaboration in the classroom like never before. Students and instructors alike can share content from their personal devices onto the larger screens/displays.
When upgrading, it is often a challenge to get into the ceiling and walls to install cabling, so why not remove the frustration? Keep a clean classroom look by eliminating cluttered heaps of cords. Reduce installation costs by cutting out the expensive cabling typically associated with an upgrade. Give time back to the teachers with an integration built to simplify their device handling.
Connectedness: The need to connect to, share with, and work alongside others is more prevalent than ever. With technology as the primary means, A/V collaboration is being brought into the spotlight. Schools are utilizing Zoom, Teams, BlueJeans, and Cisco WebEx to empower collaboration without the added expense of dedicated video conferencing hardware.
Group projects via text and email are a nightmare! Utilizing AV collaboration software and technologies can save headaches and grades while supporting equal dispersal of the workload. The ability to connect from any device, anywhere, can also allow for non-normative classrooms - hybrid classes and online courses are easier than ever!
Improvement: Instructional technologies have continued to evolve. Large, antiquated, opaque projectors have evolved into smaller, modern projection systems that can be mounted onto the ceiling. This eliminates clunky hardware and allows for a more open learning environment. Vintage box TVs (also referred to as CRTs) have evolved into what we now know as interactive displays. These displays empower engaged students and give way for innovative exercises to complement lesson plans. These interactive displays have on-board intelligence, which addresses the limitations of older boards. Now, the instructor doesn't need to be tethered to the board to work on it and any device can be connected to it.
The ability to share screens on these interactive displays means that there is less time spent shuffling to log in, plug in flash drives, and pull up presentations. The ability to connect wirelessly paired with the simple-to-learn, intuitive user controls optimize class time and give impact to the content being presented.
Simplicity: Audio is getting simpler. One tricky aspect of shared audio is when multiple voices are competing to have prominence, and it stifles all of them. It used to be that one person had to be the designated speaker at any given time to manage the intelligibility of the audio in the space. Now, in places like flex classrooms, there are strategically placed microphones and speakers, often embedded into the ceilings and controlled by systems like Crestron's DigitalMedia Presentation System. These systems help to control collaborative audio.
Hearing is one of the most integral parts to learning. This being said, it has always been somewhat of a challenge to perfect audio in an educational setting. Whether it be lousy acoustics in the room or poor sound quality from the AV system, it always ends in students unable to hear, and therefore, unable to learn. Implementing a sound reinforcement system that allows you to choose the right equipment to deliver what the audience needs to hear, while controlling what they don't, is critical.
These trends are the talk of the future. Many colleges and universities are already upgrading and optimizing their classrooms and A/V systems. Not only does it streamline the classroom learning experience, but it also gives facilities cutting-edge technology that may set them apart from the rest of the competition!
Looking to upgrade your school's system, but don't know where to start?
Let's see what Ronco can do for you!
ronco.net | 888.84.RONCO | 888.847.6626