As we continue to phase into reopening, it's essential to make sure that you are prepared to keep people protected from potential coronavirus carriers. As the impact of COVID-19 varies from state to state, it's hard for anyone to say that a particular product or solution is necessary for everyone. However, social distancing, hand hygiene, face coverings and temperature screening all play a vital part in helping businesses and institutions open up safely. Together, we can help you deploy AMETEK Land's vIRalert 3, a thermal imaging system that accurately and non-intrusively detects fevers at the point of entry into any facility.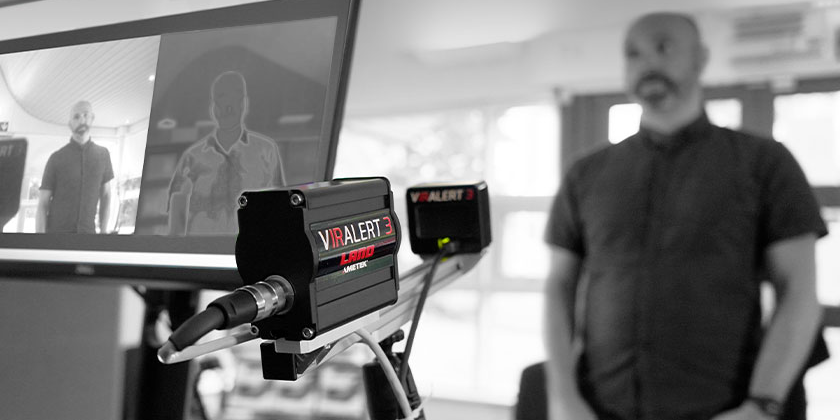 A Safe & Accurate Solution
Equipped with a dual thermal imager and non-contact visual camera, vIRalert uses face detection to automate and reduce false readings, and accurate real-time blackbody calibration to ensure reliable results. It then provides an audible alarm and on-screen notification of the results in less than two seconds!

Though the system does not inherently use facial recognition, it can be integrated into a facility's system under existing protocols to maintain GDPR compliance. Otherwise, you can trust that this solution is privacy safe. While handheld devices are an alternative solution for this, consider that they can compromise social distancing guidelines, and we've seen firsthand how every effort counts in containing the spread.
Simple to Set-Up, Easy to Use
With flexible mount options to choose from and packaged with preconfigured software, it takes less than 30 minutes to install. Intuitive user controls allow for automated functionality, truly making this a plug-and-play solution (or plug-and-protect, if you will). It is easy to use and makes an otherwise daunting process simple while keeping everyone protected from six-feet apart. Green for go, red for alert. Are you interested in seeing how it works? Watch the demo!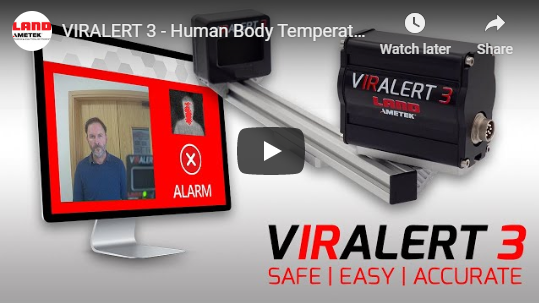 Integrations Are Available
Our teams can work to integrate this system with your existing communications technology. In the healthcare space, we can help reduce staff exposure by tying vIRalert into your nurse call solution. In the education space, we can tie vIRalert into your access controls - keeping the doors locked if and when visitors fail their reading.
Designed for Every Environment
Healthcare Facilities | Commercial Buildings | Public Sector | Offices & Manufacturing Facilities | K-12 & Higher Education
Transportation | Houses of Worship | Hospitality | Sports & Leisure
Long-Term Return
Not only is temperature screening an excellent way to protect people during this pandemic, but it's a wise investment for staff and visitor protection. With public health as a major concern moving forward, having an instant solution on hand is essential.
Technical Specs
ACCURACY
±0.5oC (±0.9oF) at a distance of 1 m.

IMAGER VISUAL
CMOS color sensor 1.2 MP (1280 x 960) resolution at 12 fps.

SOFTWARE
Continuous live thermal and visual image with automatic
face detection. Abnormal high temperatures displayed
in red, with on-screen and audio alarms. Calculates core
temperature from measured skin temperature.
IMAGER THERMAL
With a measurement range between 30 to 45 o
C (86 to 113oF), the imager has a 39 x 31o field of view, frame rate of
<9Hz, and temperature resolution of <0.12oC (<0.22 oF).

IMAGER
Connects to a local PC for display and power needs.
Operates between 10 to 50oC (50 to 122oF).

BLACKBODY REFERENCE SOURCE
Powered by 5V DC (USB) from a universal power adaptor,
the fixed temperature reference source is at 38 oC (100.4 oF)
for a combined accuracy/stability of ±0.2 oC (±0.3 oF).