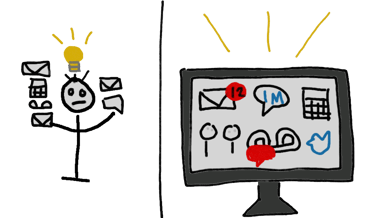 Every day we see something being invented, a new phone or an app. All of this new technology seems to make tasks so much easier. Think about the time it took us to drive and find what we were looking for...(remember calling a store to see if they had what we wanted? With amazon, it is almost a complete thing of the past).
We can pay our bills online, buy a new kitchen table online, we can even do business online. Our expectations have changed and so has our communications style. Face to face has a new meaning, and it usually involves a screen. :) Facetime? The advancements in technology are more crucial now because face-to-face business is becoming a thing of the past. Today's workplace communications rely on email chains and conference calls that are only as successful as the communication technology you have in place.
There is a new generation of communications technologies upon us. People, now more than ever, are working from home, the beach, or even on a road trip. Business communication technologies are blending the constructs of work and home and making the global workplace a delightful experience.
Mobile Workforce:
Time zones and office hours are no longer restrictions of the workday. Imagine cooking dinner for the family while waiting to get on the final conference call of the day. Telecommuting employees get the freedom to accomplish all their work tasks at home, enjoy their family, and potentially get done early for the day. Who wouldn't want that?
Unified Communications:
Mobile communications are awesome, connecting through video chat or a quick IM is extremely beneficial to any workplace. Without having a platform that collects all the data from conference calls, video conferences and IM's, keeping track of your "digital clutter" is almost impossible. Social connectivity through collaboration tools is what makes our technology heavy world so exciting. A collaboration toolset involving all the communications systems collectively gives you a new way to work integrating features and providing greater productivity. Making the job as a whole more desirable.
Close Collaboration:
Today collaboration isn't happening in boardrooms with donuts and whiteboards. It's happening on documents being edited by numerous people all over the world all at the same time. Screen sharing, video chatting, and mobile conference rooms are connecting the employee that may make it into the office once every two months. Collaboration tools are making it increasingly easier for employees to work with each other without physically having to meet at a desired location.
---
"Skype for Business has revolutionized how we do business. We no longer look at our workforce based on location, we choose where and how we want to work. Unified Communications has been a complete game changer for our organization."
---
In the ever growing mobile workplace people are able to communicate with each other at the click of a button. Just think of what a connected workforce could mean for you!